Where is the best place to recycle empty ink cartridges?

(Recycle Your Empty Ink Cartridges Online & Get Paid in 30 days or less!)



Did you know that 375 million printer cartridges end up in landfills every year in the US? That's a big environmental problem, but there's a simple solution - recycling and refilling. Not only does reusing cartridges reduce the amount of plastic and ink needed, but it also lowers the overall environmental impact of printing ink by 30%.

Recycling or refilling your cartridges is easy and affordable. You can either use a refill service like the one offered by Walgreens photo departments, or do it yourself. For just $10, Walgreens will clean and refill your HP, Canon, Fuji, Samsung, Brother, Lexmark, or Epson cartridges with black ink. For colored inks, it's $25.

While Costco's US stores no longer offer refill services, business users have plenty of options for mail-in refill services like InkRecycling.org, which was reviewed positively by CNBC in January 2014. Don't let your printer cartridges end up in a landfill - switch to recycling and refilling today!



How It Works
---
Refilling your printer cartridges is easy with these simple steps:
Get a cartridge refill kit either at an office supply store or from an online retailer.
Wear rubber gloves for better handling and to prevent ink from staining your hands.
Locate the refill holes/toner refill port under the label of the cartridge you want to refill.
Load the ink into the refill syringe provided in the kit and inject it into the holes/port according to the instructions.
Reseal the cartridge once you're done refilling it.
Ensure you clean the refill syringe carefully after each use.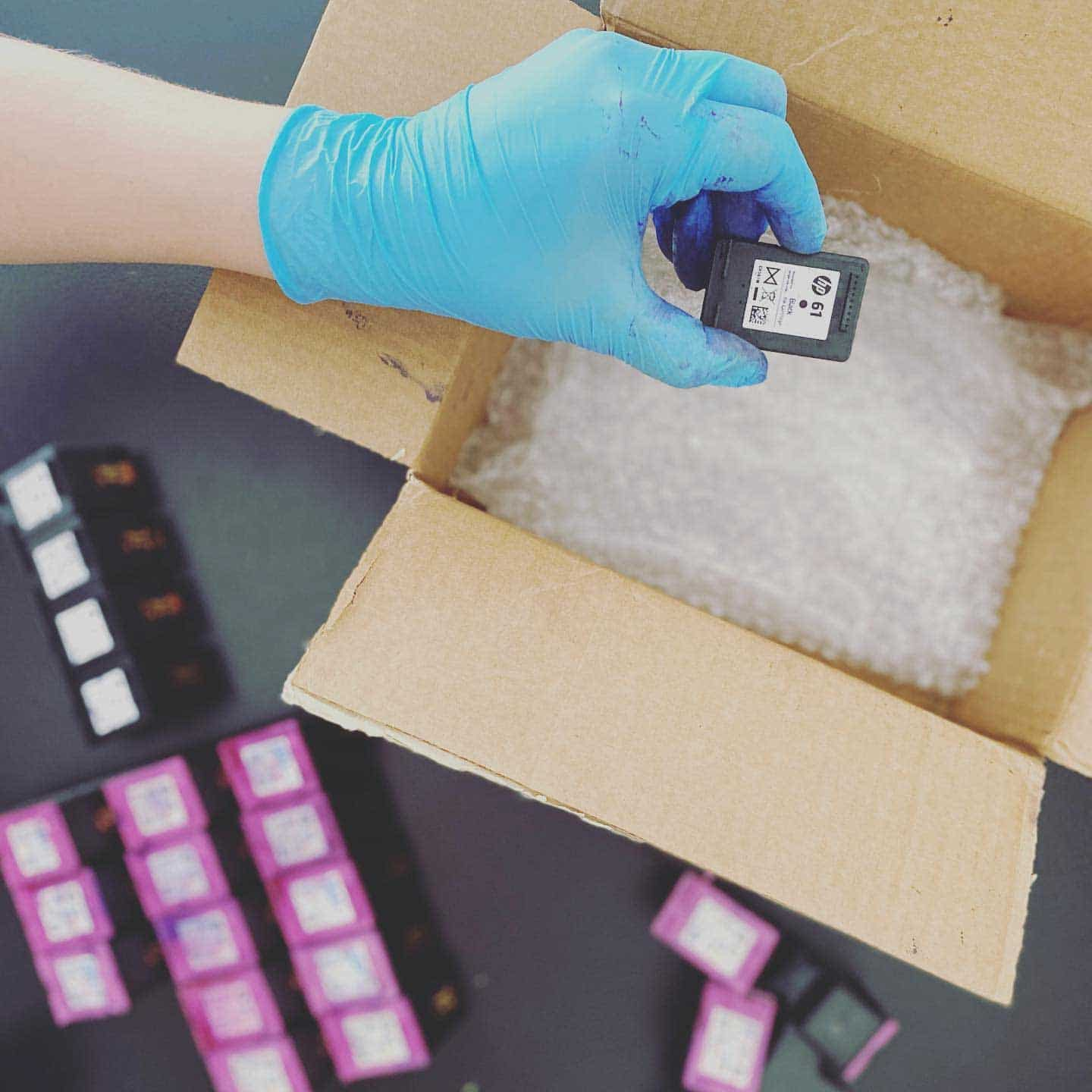 FAQ: Ink Cartridge Recycling Questions
---
Recycling your ink cartridges online is easy with the InkRecycling.org. Find options in your local area or mail them back through our online trade-in program. Remember that only cartridges made by the printer manufacturer or labeled "recyclable" by third-party companies can be recycled. Avoid "compatible" products to ensure they can be recycled. Don't be tempted by cheap cartridges that end up in landfills as they never decompose.
When storing or transporting cartridges, store them in leak-proof bags to prevent spills. Unsure about refilling or recycling? Check out our FAQs for guidance.
Want to recycle your ink cartridges? Look no further! InkRecycling.org offers recycling programs that can earn you Cash not just rewards points. Depending on the manufacturer, InkRecycling.org allows you to qualify for cash when making a qualified trade-in online.
If you're looking to recycle through the manufacturer, InkRestock.com's closed-loop program may be the right fit for you. InkRecycling.org also offer free recycling programs, either through mail-in or prepaid shipping labels.
Plus, you can make a difference for a charity or school by participating in InkRecycling.org. Don't let your old cartridges go to waste – recycle them today!
How do I Refill?
---
Refilling ink cartridges reduces waste but has limits. Refilling is a convenient and cost-effective way to keep your printer running. The refilled cartridges are filled to their maximum and last longer compared to some new cartridges. Don't forget to recycle them when they reach the end of their life span....If you find this too difficult, you may contact us for a free shipping label and we will asist with your cartridge recycling.
Where is InkRecycling.org?
---
Our trade-in Service is available online and is free for anyone to signup and use.