How to Recycle Ink Cartridges For Cash!
6 BEST REASONS TO RECYCLE YOUR EMPTY INK CARTRIDGES
---
Have you ever wondered what happens to inkjet printer cartridges once they're disposed of? Most people don't know that they can be recycled. Nowadays, many websites offer an option for recycling these empty hp and canon ink cartridges! If your city doesn't have a program like this one in place yet or if there isn't enough space at any of the collection sites near where your live then consider using InkRecycling's free service which pays out cash if someone mails in their empty ink cartridges.
Did you know that if your printer has not been used for a year or more, it can cost nearly 30 cents per page to operate? This is why recycling old cartridges makes good financial sense. Check out the top reasons why getting rid of those empty ink cartridges can be good for you and the planet:
Recycling Doesn't cost you money
Gives you the chance to make cash from your used and empty cartridges
Provides an easy way to get rid of your old printer cartridges
Reduce your impact on the environment by recycling with us
Earn cash back for your printer cartridges - up to $100 or more!
One stop shop: we handle all of the recycling and shipping process, so all you have to do is send them in and wait for a check
How do you dispose of empty ink cartridges?
---
InkRecycling.org helps you get paid for your old ink cartridges with just a few quick steps! The entire return procedure takes less than 15 minutes from start-to-finish: locate which model numbers are in need of returning; fill out how many units total before being returned. Our recycling checkout calculates what amount will be credited when all said figures have been added together based on the cartridges you're sending in. All the information is on our site, and we're always happy to answer any questions that might come up during this process - so don't hesitate to live chat or call if need be (they'll even guide you through the recycling instructions).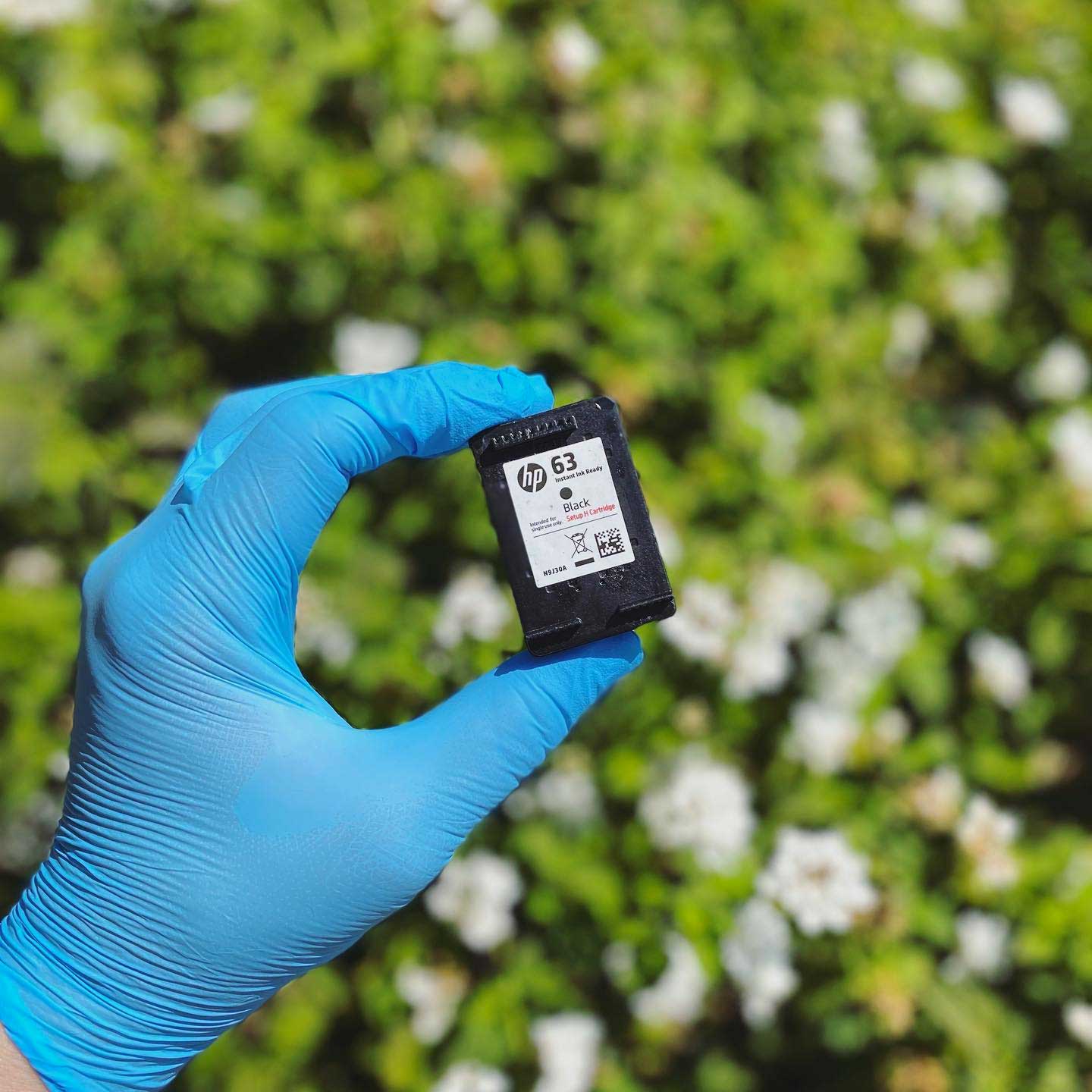 TIP: Always wear gloves when holding ink cartridges to keep the harmful toxins from getting on your skin - HP Black 63 Cartridge pictured above


Can I get money for empty ink cartridges?
---
InkRecycling.org not only recycles your old ink cartridges, but we also pay you for them! Simply locate the number of printer cartridges on our list with a quick online search and fill out how many are returning we calculate the amount of payment to be sent to you when your cartridges arrive and get inspected. Be sure create an account on the members portal to track the status all the way to payment.
Recycling your printer ink cartridges is a great way to be environmentally conscious and save some money at the same time. You get cash back for empties, so it's win-win! Read on below about how recycling works when you use Canon or Epson printheads as well as other tips from our expert recycling team
Our trade-in-program will pay up to $2.00 for a cartridge, depending on the model and/or quality of the cartridge.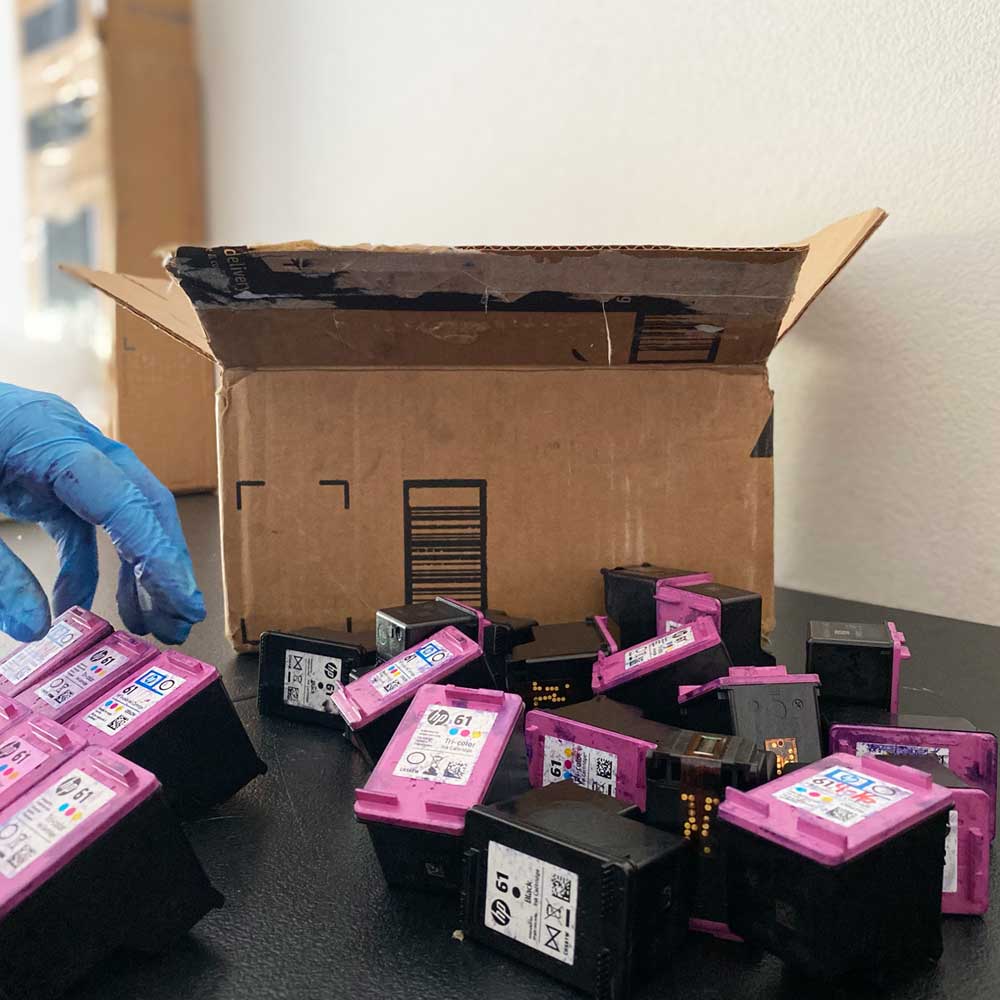 Our trade in program makes it so easy to get paid for recycling your empty cartridges.

Recycling is good for the environment and for our health. Recycling not only saves energy but also reduces pollution. The reason being, recycled empty cartridges require less processing than creating a raw cartridge from scratch. Recycling ink cartridges has been proven to be a low-cost way to abandon potentially hazardous, non perishables, and toxic e-waste like ink cartridges. The hope is that this will push the world towards a life of sustainable living while earning some money through our buy back program.
Can I put ink cartridges in the recycle bin?
---
The Answer is NO!...Here's why:
Did you know that each year, millions of empty inkjet and toner cartridges end up in our landfills? It's easy to recycle these valuable resources. By recycling them we can help reduce solid waste as well as conserve raw materials which is environmentally beneficial for us all! Most refillable or recyclable printer cartridges are able be reused 6 times before needing a replacement so it really doesn't make sense when companies just throw away their old ones thinking they don't have enough customers who need new printing supplies every month.
You may not know that printer ink is a finite resource and when it runs out, your office will be forced to stop printing. This could lead to major problems with productivity as well as serious illness due the lack of cleanliness in an environment where people are constantly exposed to dangerous chemicals released by attempting to refill the cartridges yourself.
What can you do with old ink cartridges?
---
InkRecycling's Ink Cartridge trade in program will take your empty cartridges and give you cash, or we'll donate proceeds to charity. Our process is 100% transparent allowing you to get the most money for selling your empty cartridges.
Our Recycling Portal allows you to track your recycling through the entire process. We'll let you know how your empty cartridges are being handeled each step of the way.
INK TEAM FACT:
Our team inspects each cartridge by hand using verified inspection practices. We document the whole process and send you a recycling report once the inspection is complete. Due to the large amount of cartridges we process, please expect your payment to be sent within 30 days after our office receives your empty cartridges.
What happens to the empty ink cartridges?
---
InkRecycling is the leading recycling program for empty HP inkjet cartridges. This innovative, new approach to online recycling provides a new and sustainable future by closing the loop on all sorts of wastes generated within our current system: recycled cartridges are processed to purify them; trays from old printers or copiers can be used as material in microchip fabrication processes while precious metals like gold may end up being used as conductors throughout electrical equipment!
It's worth noting, InkRecycling is a recycling program for Official HP Inkjet cartridges and is currently offered in the United States. The process includes separating recycled cartridges with purification processes that close the loop by using materials collected from both processed or partially used ones as well!
Can you sell empty printer cartridges?
---
Our website has a list of printer cartridges that we accept. Be sure to check the list before sending in your empty cartridges, InkRecycling will only pay for those they can use - some even earn you more!
We're always happy to help our customers, but make sure you check the list of acceptable printer cartridges before sending in an empty cartridge. If we don't accept your specific type or brand then please use our Live Chat to ask if we will be accepting it in the future. It never hurts to ask!
How do I dispose of HP ink cartridges?
---
If you're looking for a way to earn some quick online money, know that many InkRecycling will pay you for your empty ink cartridges. They'll take the empty HP ink Cartridge and send you some cash towards purchasing something new! Just visit their website with any questions about the recycling process for empty hp ink cartridges.

Recycling your used ink cartridges is the responsible thing to do! We should be doing everything in our power today so that tomorrow will come with a healthy planet.
- InkRecycling Team